POLICY OFFICE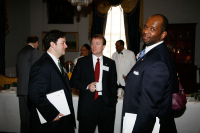 The Policy Office is a division of the Office of the Governor in the Executive Branch of Virginia state government. The Policy Director is responsible for planning and implementing the Governor's policy initiatives, including proposed legislation, as well as overseeing the Administration's response to legislation and initiatives proposed by legislators and other interested parties. The Policy Director is responsible for managing the Governor's Office review of regulations and for the development and issuance of executive orders and executive directives. Brian Sheppard held this position during Governor Timothy M. Kaine's administration (2006-2010).

The Policy Director was assisted in his responsibilities by a Legislative Director/Deputy Policy Director (William L. Murray, January 2006-May 2007; Suzette Denslow, May 2007-January 2009; and Barbara Reese, January 2009-January 2010), Senior Advisor (Mark E. Rubin) and Policy Staff (Steven Gould, 2006-2007; Felix Safro-Katanka, Jr., 2006-2007; Gena Boyle, January 2006-December 2009; Maribel Ramos, 2006-2007; Joyce Walton; Jennie Moline, 2006-2009; Hayes Framme, 2006-2008; Marc Cheatham; and Megan Root). The Policy Director and Legislative Director were also a member of the Governor's Leadership Team.
The Policy Office managed legislative relations, coordinated policy development with Cabinet, managed bill review (including Governor's position on bills), managed regulatory process, and reviewed executive orders, executive directives, and decision briefs.
Policy Office Email – Now Available.
Related Paper Records include:
Related Digital Collections – Archived Web Sites:
Related Digital Collections – Other:
Related Resources – Live Web: