AMERICAN LETTERPRESS: THE ART OF HATCH SHOW PRINT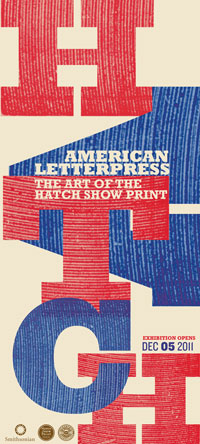 Smithsonian traveling exhibition celebrates American graphic art tradition
DECEMBER 5, 2011–FEBRUARY 4, 2012 | EXHIBITION GALLERY
"Advertising without posters is like fishing without worms."
–The Hatch Brothers
This sentiment was certainly true in 1879 when brothers Herbert H. and Charles R. Hatch opened Hatch Show Print, a printing shop in Nashville, Tennessee. Their handcrafted posters screamed slogans such as "More Power, More Pep," "So Many Girls You Can't Count Them All," and "Always Clean, Always Good." Almost 130 years later, Hatch posters hold their own, offering a stirring and refreshingly tactile contrast to the digital advertising world.
The Smithsonian Institution Traveling Exhibition Service in partnership with the Country Music Hall of Fame and Museum celebrates this time-honored graphic art tradition. American Letterpress: The Art of Hatch Show Print opened at the Experience Music Project in Seattle on Oct. 11, 2008, and has traveled to additional museums over the last few years, including the Austin Museum of Art (Texas), Tulane University's Newcomb Art Gallery in New Orleans, and the Georgia Museum of Art in Athens.
Now the exhibition comes to the Library of Virginia's Exhibition Gallery from December 5, 2011, through February 4, 2012. "The prints are compelling. Big, bold design and color capture your attention," said Barbara Batson, the Library's exhibition coordinator. "More than 75 prints and wood blocks will be displayed."
Library of Virginia
Smithsonian Institution Traveling Exhibition Service - American Letterpress: The Art of Hatch Show Print
Country Music Hall of Fame - Hatch Show Print