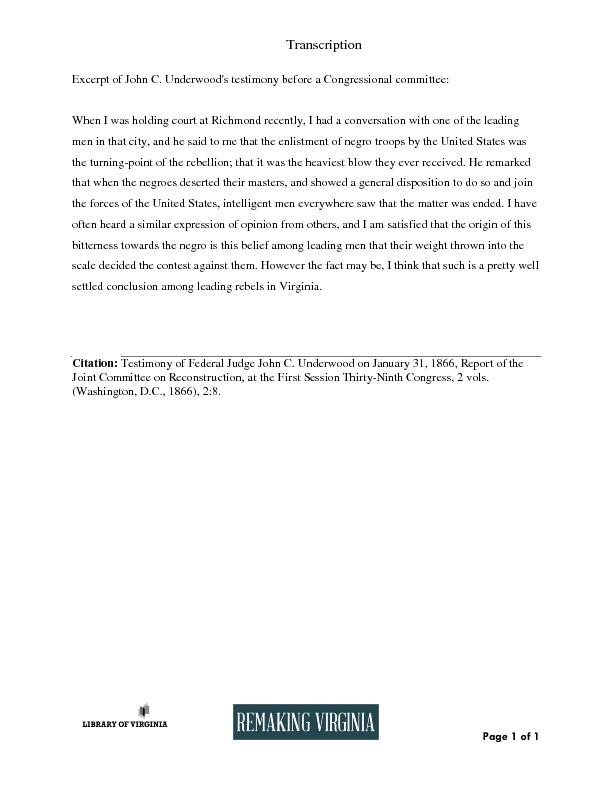 Dublin Core
Title
Excerpt of Testimony of Federal Judge John C. Underwood
Subject
African Americans, military service, race relations
Description
A joint Congressional committee was appointed in 1865 to determine whether the former Confederate states were entitled to have representation in Congress. More than one hundred witnesses testified early in 1866 about the situations in the four military districts established after the Civil War. Federal judge and Alexandria resident John C. Underwood testified on January 31, 1866, about the attitudes of Virginians in the months after the war.
Creator
John C. Underwood
Source
Report of the Joint Committee on Reconstruction, at the First Session Thirty-Ninth Congress, 2 vols. (1866), 2:8
Publisher
Washington, D.C.: Government Printing Office
Contributor
Library of Virginia
Identifier
Underwood testimony_1866_transcription.pdf
Coverage
Richmond, Virginia
Text Item Type Metadata
Text
Excerpt of John C. Underwood's testimony before a Congressional committee:
When I was holding court at Richmond recently, I had a conversation with one of the leading men in that city, and he said to me that the enlistment of negro troops by the United States was the turning-point of the rebellion; that it was the heaviest blow they ever received. He remarked that when the negroes deserted their masters, and showed a general disposition to do so and join the forces of the United States, intelligent men everywhere saw that the matter was ended. I have often heard a similar expression of opinion from others, and I am satisfied that the origin of this bitterness towards the negro is this belief among leading men that their weight thrown into the scale decided the contest against them. However the fact may be, I think that such is a pretty well settled conclusion among leading rebels in Virginia.
Document Viewer