THIS DAY IN VIRGINIA HISTORY
Click image for larger view.
June 08, 1866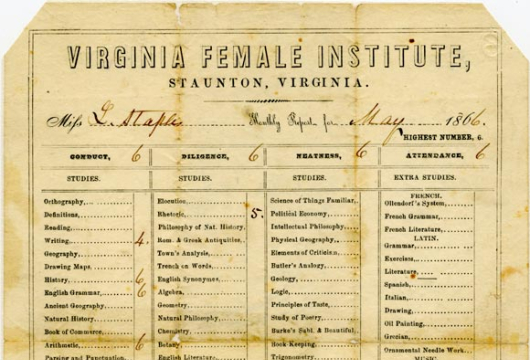 Virginia Female Institute Issued Report Cards
This report card of May grades for Laura Eudora Staples (1852–1903) shows the subjects in which she was enrolled as well as the others that the school offered. Young women in Virginia in the nineteenth century received educations depending on their social and financial status. Few women attended more academically sophisticated institutes and colleges. Staples graduated from the Virginia Female Institute in 1870 with an endorsement from the Department of English. In 1907 the school was renamed Stuart Hall, in honor of Flora Cooke Stuart (1836–1923), headmistress of the school and widow of Civil War general J. E. B. Stuart (1833–1864).
Related Links: