THIS DAY IN VIRGINIA HISTORY
Click image for larger view.
April 07, 1945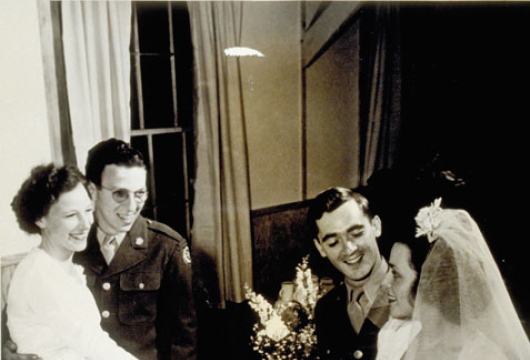 A Wedding Reception Was Held at the WAC Mess Hall
The bride and groom in this photograph are Private Margaret G. (Taylor) Williams, of Hatboro, Pennsylvania, and Private First Class Donald G. Williams, of Buffalo, New York. Serving them cake is their best man and matron of honor, Staff Sergeant Robert F. Kennedy, of South Bend, Indiana, and Private Clare R. Kennedy, of Philadelphia, Pennsylvania. Taken at the WAC (Women's Army Corps) Mess Hall at the Hampton Roads Port of Embarkation, Newport News, the photograph is a part of the United States Army Signal Corps Photograph Collection.
Related Links: