THIS DAY IN VIRGINIA HISTORY
Click image for larger view.
April 13, 1864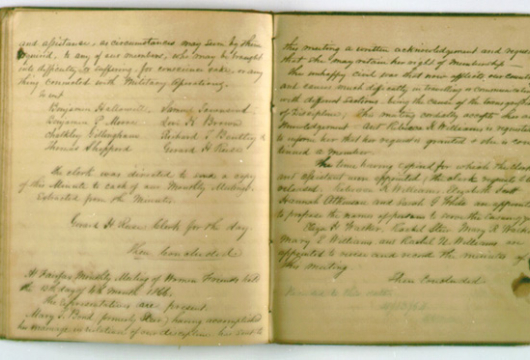 A Meeting of Quaker Women Was Held
The Quaker women of Loudoun County met to discuss the case of Mary J. Bond. Although the exact nature of Bond's offense is unknown, it is probable that she had failed to attend worship services often enough. Married, she may have moved and was finding it increasingly difficult to travel to the Quaker meetinghouse during the Civil War. After consideration, the meeting allowed Bond to remain within the congregation. The Fairfax Monthly Meeting had been established in 1744 from a larger congregation. Later when Loudoun County was formed, the meeting found itself within the new county but retained its traditional name. The meeting was discontinued in 1929.