THIS DAY IN VIRGINIA HISTORY
Click image for larger view.
April 28, 1833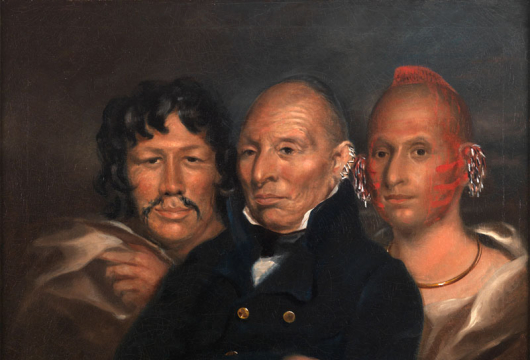 Black Hawk, Nasheaskuk, and Wabokieshiek Arrived in Richmond
In 1832 Sauk warriors led by Black Hawk, or Makataimeshekiakiak (1767–1838), defied federal troops sent to force the Indians to withdraw to lands west of the Mississippi River. This conflict, sometimes called the Black Hawk War, ended when Black Hawk surrendered. The Indian leaders were imprisoned for a year at Fort Monroe and after their release taken on a tour of major East Coast cities. James Westhall Ford (1806–1868) painted three portraits of Black Hawk while the Sauk leader was in Richmond. This portrait depicts, from left to right, Wabokieshiek also known as The Prophet; Black Hawk, wearing the European-style jacket that President Andrew Jackson required him to wear; and Black Hawk's son Nasheaskuk.