THIS DAY IN VIRGINIA HISTORY
Click image for larger view.
August 01, 1918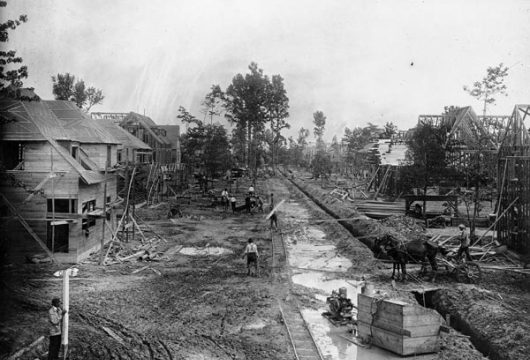 A Photograph Was Taken of the Construction of Hilton Village
Hilton Village, located off the James River on 200 acres of land three miles north of Newport News, marked the beginning of the United States government's effort to address wartime housing shortages with the creation of planned communities or housing projects. Construction on Hilton Village began in April 1918 and was intended to provide homes for 500 skilled shipyard workers and their families. Landscape architect Henry Vincent Hubbard (1875–1947) of Harvard University and architect Francis V. Joannes (1876–1952) modeled Hilton Village's homes on the English cottage style. The neighborhood was placed on the National Register of Historic Places in 1969.