THIS DAY IN VIRGINIA HISTORY
Click image for larger view.
August 03, 1863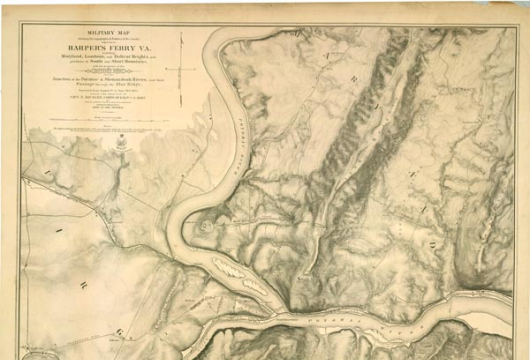 A Survey of the Country Near Harpers Ferry Was Begun
Nathaniel Michler (1827–1881) of the United States Army Corps of Engineers directed the surveys of many of the Federal military maps created during and after the American Civil War. John E. Weyss led much of the mapping in Virginia. In addition to this map, he created a second Harpers Ferry map that appeared (with fifteen other maps by Weyss) in
Military Maps Illustrating the Operations of the Armies of the Potomac and James
(1869). This topographical map depicts the high grounds surrounding Harpers Ferry including Maryland Heights to the northeast, Loudoun Heights to the south, and a plateau called Bolivar Heights to the west, as well as portions of South and Short Mountains to the east.
Related Links: