THIS DAY IN VIRGINIA HISTORY
Click image for larger view.
August 08, 1919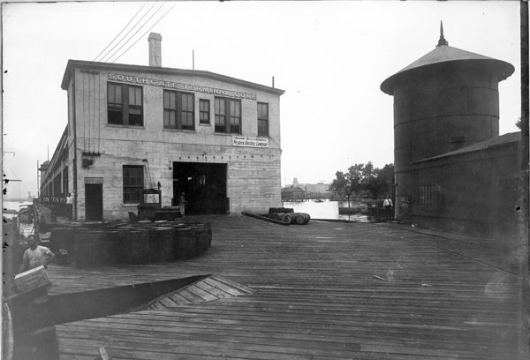 Mann Photographed the Southgate Terminal Corporation
The Southgate Terminal Corporation was formed by food broker, Thomas S. Southgate (1868–1928), of Norfolk, and the Chesapeake and Ohio Railroad. This picture shows the Southgate Terminal Corporation building on a dock in Norfolk. The wooden planks of the dock lead up to the two-story building. A sign above the side door reads "office." The photograph was taken by a Norfolk commercial photographer, Harry C. Mann (1866–1926) who specialized in landscape and industrial views and in portrait photography. The Library of Virginia owns a large collection of Mann's photographs.
Related Links: