THIS DAY IN VIRGINIA HISTORY
Click image for larger view.
August 13, 1838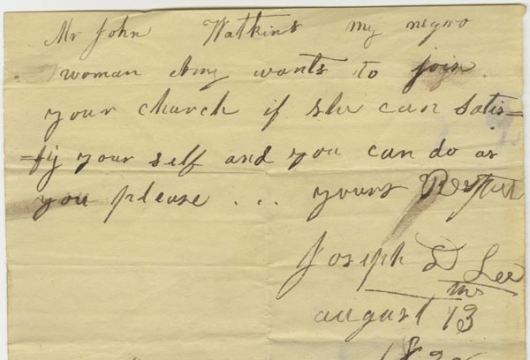 Amy, an Enslaved Woman, Was Permitted to Join a Church
In this note, Joseph D. Lee, a planter in Cumberland County, wrote to John Watkins, a Baptist minister at a local church, giving his permission for Amy, an enslaved woman, to join Watkins's congregation. Virginians, both black and white, were profoundly affected by the evangelical movement after 1790. In the aftermath of Nat Turner's Rebellion in 1831 however, white Virginians took steps to exercise more control over the religious lives of enslaved African Americans by forbidding them unsupervised religious instruction. By 1850 there were 42,377 white Baptists and 44,832 black Baptists in Virginia.