THIS DAY IN VIRGINIA HISTORY
Click image for larger view.
December 21, 1941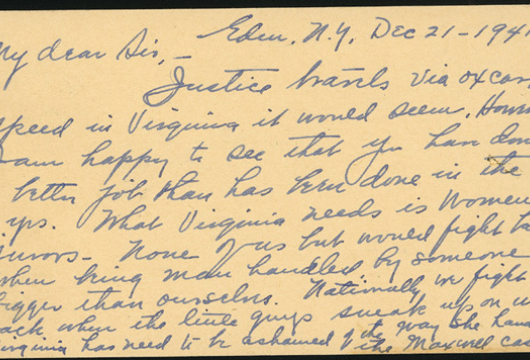 A New York Woman Wrote to Governor James Hubert Price
In November 1935, a jury of twelve men in Wise County convicted Edith Maxwell of murdering her father and sentenced her to twenty-five years in prison. Maxwell's case briefly became a national sensation as newspaper articles encouraged people to raise money and send letters to appeal the verdict. On her card to Governor Price (1878–1943), Mrs. P. J. Simmen of New York wrote, "Justice travels via oxcart speed in Virginia it would seem. . . . What Virginia needs is women jurors." The General Assembly, however, did not allow women to sit on juries until 1950.
Related Links: