THIS DAY IN VIRGINIA HISTORY
Click image for larger view.
December 27, 1898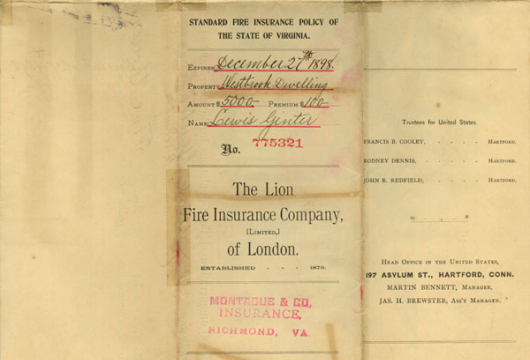 Lewis Ginter's Westbrook Dwelling Insurance Expired
This certificate from The Lion Fire Insurance Company of London insured a Henrico County home from 1895 until the policy expired in 1898. Owned by Lewis Ginter (1824–1897), Westbrook was built late in the 1880s in the Queen Anne style, which became popular during the Industrial Revolution. Ginter was a businessman in post-Reconstruction Richmond who made a fortune in cigarette sales in the 1880s. By the 1890s he was well-known in Richmond as an entrepreneur and philanthropist. The Westbrook estate served as a psychiatric institution from 1911 to 1999. The mansion was torn down in 1975, and the property is now a part of the Westminster-Canterbury retirement community.