THIS DAY IN VIRGINIA HISTORY
Click image for larger view.
February 28, 1865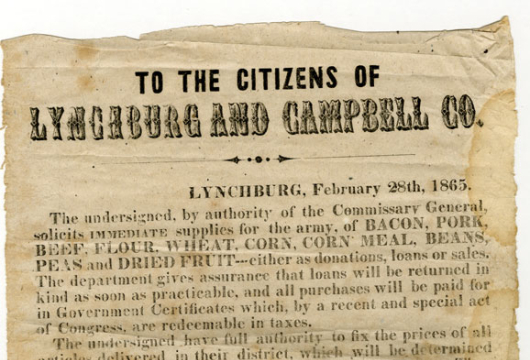 A Broadside Addressed to the Citizens of Lynchburg and Campbell County Was Published
Commissioners distributed copies of this broadside in the vicinity of Lynchburg to obtain supplies for the Confederate army. The Confederate Congress had recently made it possible for people to pay taxes with government certificates (with which the government paid for supplies), hoping to induce more people to accept certificates. This announcement also suggests that the commissioners were willing to pay the fair market price for necessary supplies rather than the rates the government had formerly established. Those inducements and the appeal to state pride—"Nothing further need be said to a Virginian"—bespoke the seriousness of the army's situation.