THIS DAY IN VIRGINIA HISTORY
Click image for larger view.
January 13, 1990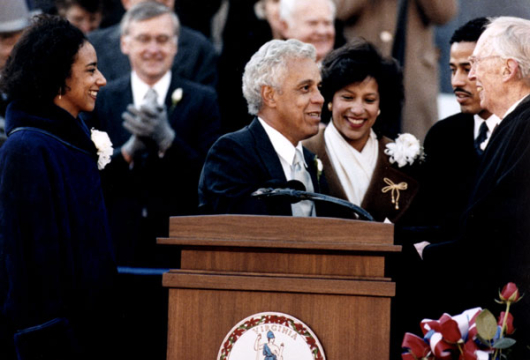 Lawrence Douglas Wilder Was Inaugurated Governor
A grandson of slaves, Lawrence Douglas Wilder (1931– ) was sworn in as governor of Virginia on January 13, 1990. Wilder made history in 1985 when he became the first African American elected to statewide office, and was sworn in as lieutenant governor in 1986. In 1989 he was the nation's first elected African American governor. Witnesses to the inauguration were the new governor's daughter, son, and daughter-in-law, flanking him, retired United States Supreme Court Associate Justice Lewis F. Powell (1907–1998), who administered the oath of office, at the right, and retiring Governor Gerald L. Baliles (1940– ).