THIS DAY IN VIRGINIA HISTORY
Click image for larger view.
January 18, 1925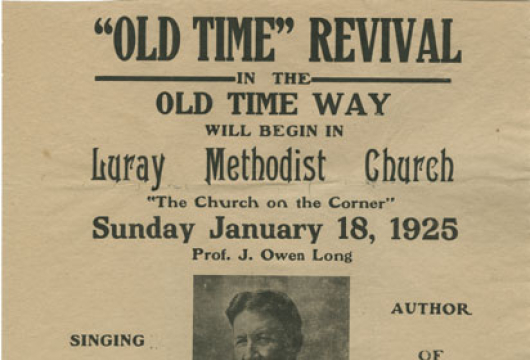 "Old Time" Revival Began at Luray Methodist Church
This broadside advertised an "old time" revival at Luray Methodist Church in Page County on Sunday, January 18, 1925, that was to continue for two weeks. Professor Jacob Owen Long (1876–1953), a singing evangelist, teacher, and composer, was slated to direct the musical portion of the program while the Reverends G. W. Richardson and John William Smith were to preach. According to J. C. Stewart, a fellow composer, his sweet gospel songs cheered Stewart beyond expression. Some of Long's works include titles such as
The Pretty Milkmaid: Just a Bit of O'Blarney
,
Beside the Still Waters
,
Hail the King
, and
Beautiful Shenandoah
.