THIS DAY IN VIRGINIA HISTORY
Click image for larger view.
July 21, 1914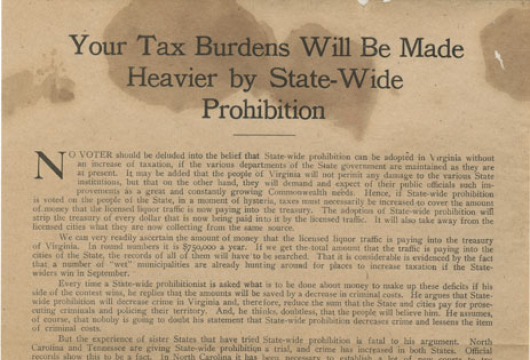 Anti-Prohibition Supporters Publicized Their Opinions
This campaign broadside encouraged voters not to approve statewide Prohibition. It argued that instead of decreasing crime, as Prohibition proponents had asserted, that crime actually increased in states that had already enacted Prohibition. The cost of increased criminal prosecution with the loss of revenue from licensed liquor trade would lead to increased land taxes. Statewide Prohibition was approved in a state referendum in September 1914, and the legislature passed a law making Virginia completely dry in November 1916, four years before national Prohibition was enacted. Prohibition ended in Virginia with the ratification of the 21st Amendment repealing national Prohibition in 1933.
Related Links: