THIS DAY IN VIRGINIA HISTORY
Click image for larger view.
June 04, 1943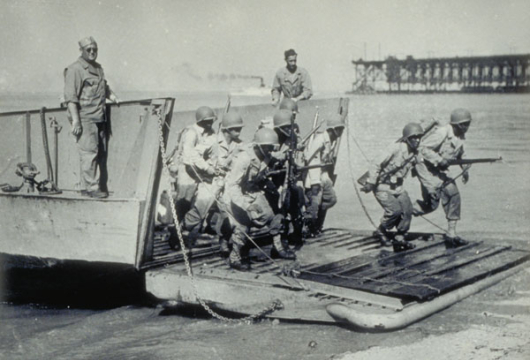 Soldiers From Company G Engaged in Battle Practice
This image shows soldiers of Company G of the 381st Port Battalion leaving a barge to charge up a beach during battle practice. The 381st was an African American battalion; the United States armed forces did not integrate until after President Harry S. Truman (1884–1972) ordered desegregation in 1948. This photograph is a part of the U.S. Army Signal Corps Photograph Collection, Hampton Roads Port of Embarkation series, taken by Army Signal Corps photographers. During World War II Hampton Roads was the embarkation and arrival point for nearly 1.7 million military personnel and civilians involved in the war effort.
Related Links: