THIS DAY IN VIRGINIA HISTORY
Click image for larger view.
June 06, 1874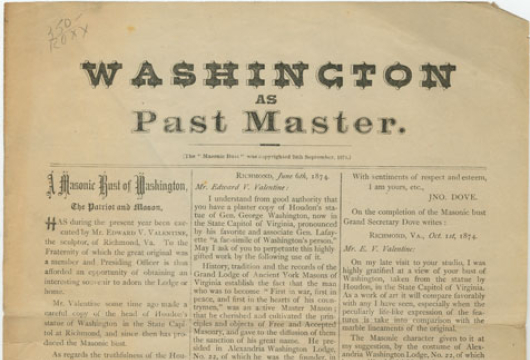 Masons of Virginia Ordered a Bust of George Washington
This advertisement to Virginia Masonic lodges, encouraging them to purchase a bust of Washington, included the text of June and October letters from Dr. John Dove (1792–1876), Grand Secretary of the Grand Lodge of Virginia, to Edward Virginius Valentine (1838–1930), an eminent sculptor. Valentine possessed a cast of the Jean-Antoine Houdon (1741–1828) sculpture of Washington that is in the Virginia State Capitol, and Dove requested that Valentine make a bust of Washington in Masonic garb based on that cast. Masons sold the busts that Valentine created for $30 each.
Related Links: