THIS DAY IN VIRGINIA HISTORY
Click image for larger view.
November 21, 1654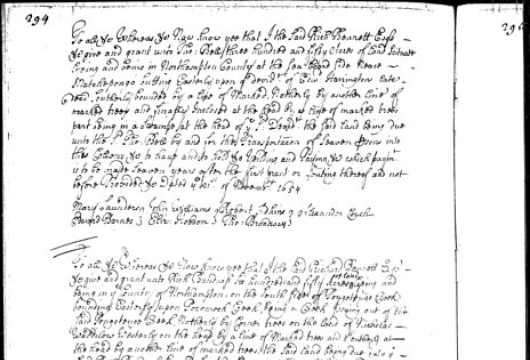 Richard Johnson Received a Land Grant
Richard Johnson was an African Virginian, the son of Anthony Johnson, a land- and slave-owner. This grant of 100 acres of land in a part of Northampton County that became Accomack County was adjacent to tracts of land belonging to Anthony Johnson and to Richard Johnson's brother John Johnson. Four years later, Richard Johnson was defrauded of this 100-acre tract by a white neighbor. In 1665 Anthony Johnson and most of his family moved to Maryland, but Richard Johnson stayed behind with his own family, working as a carpenter. In 1675 he bought a 590-acre tract of land in Accomack County.