THIS DAY IN VIRGINIA HISTORY
Click image for larger view.
October 05, 1806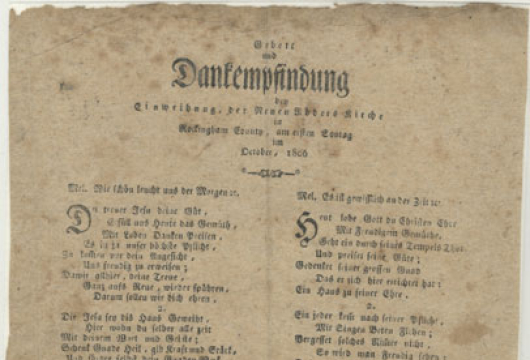 First Services Were Held at a New Church in Rockingham
This broadside, printed in German, was one of the first publications by Ambrose Henkel in New Market. It announced prayer services to consecrate a new log building for Rader Church in Rockingham County. Rader Church (alternately spelled Reider and Röder) began as a Lutheran congregation about 1763. The congregation shared meetinghouses with a Reformed congregation until late in the nineteenth century. Rader Lutheran Church continues as an active congregation in Timberville in a brick building constructed in 1878. The earliest immigrants to the Shenandoah Valley were largely German migrants and those of German descent from Pennsylvania. They kept and created distinct cultural traditions.