THIS DAY IN VIRGINIA HISTORY
Click image for larger view.
October 15, 1890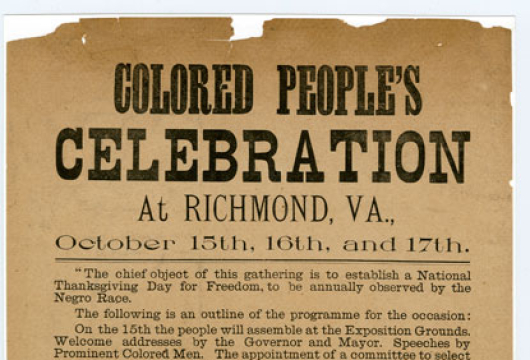 National Colored People's Celebration in Richmond
A three-day festival was held from October 15 to October 17, 1890, at the Richmond Exposition Grounds, on West Broad Street near the site of the current Science Museum of Virginia. The gathering was called to celebrate the twenty-seventh anniversary of the Emancipation Proclamation as well as to set a date for a yearly thanksgiving of the freedom of the slaves. There were fairlike festivities at the exposition grounds and a parade. Local and state politicians and prominent local and national African American men made speeches. The Richmond, Fredericksburg, and Potomac Railroad Company offered special rates and schedules to bring people to the celebration.