THIS DAY IN VIRGINIA HISTORY
Click image for larger view.
October 22, 1852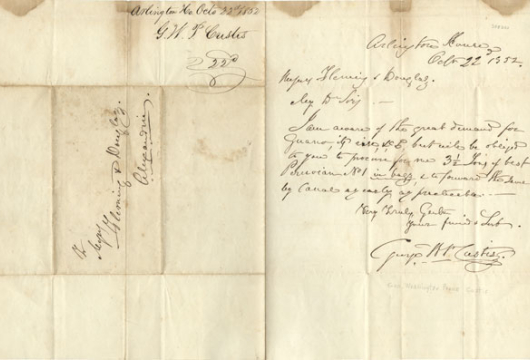 George Washington Parke Custis Ordered Guano
George Washington Parke Custis (1781–1857) was raised by his grandmother Martha Dandridge Custis Washington and her second husband George Washington. Custis inherited the estate he named Arlington. This ordinary business letter from Custis requests a shipment of guano from merchants in Alexandria. Guano (bat or bird feces) is high in nitrogen and was used as fertilizer. Custis's daughter, Mary Anna Randolph Custis, married Robert E. Lee in 1831. She inherited the right to inhabit and control Arlington House and later lost it to Union forces in the Civil War. Today Arlington House, the Robert E. Lee Memorial, is a museum on the grounds of the Arlington National Cemetery.