THIS DAY IN VIRGINIA HISTORY
Click image for larger view.
June 09, 1930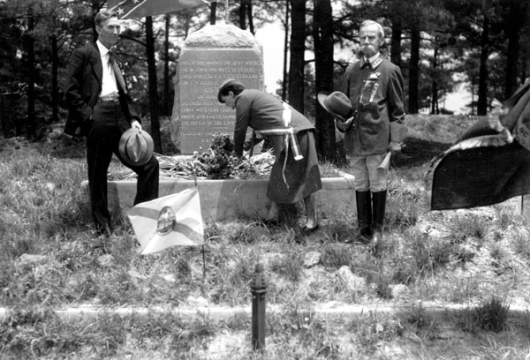 A Civil War Battle Was Commemorated in Petersburg
This 1930s photograph shows a woman at the Petersburg National Battlefield placing flowers on a monument that was erected in May 1909 by the Petersburg chapter of the United Daughters of the Confederacy. It commemorates the "Battle of Old Men and Young Boys" in which most every man fit for service was gone, leaving only the young and old to defend the city. The battle was fought on June 9, 1864, between the Confederate forces of General Raleigh Edward Colston (1825–1896) and Colonel Fletcher Harris Archer (1817–1902) and the Union forces of General August Valentine Kautz (1828–1895). The result of the engagement was a Confederate victory.
Related Links: