THIS DAY IN VIRGINIA HISTORY
Click image for larger view.
September 08, 1833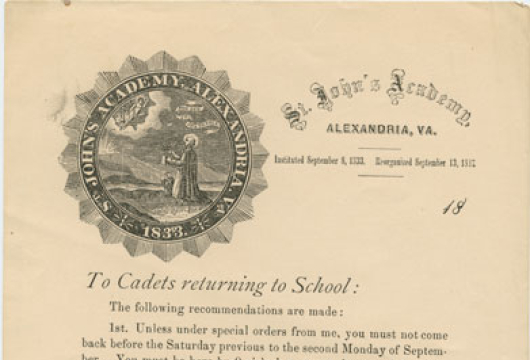 Saint John's Academy Was Founded
Saint John's Academy was founded on September 8, 1833, in Alexandria, Virginia. A Jesuit school begun by priests of Saint Mary's Catholic Church, it was a preparatory school for boys. Saint John's closed for a time during the 1840s, and Richard Libby Carne (1826–1911) reopened it in 1847. The school remained open during the Civil War, but closed for good in 1895. The document
To Cadets Returning to School
gives several recommendations to returning students regarding arrival plans, marking of clothing, and items to bring. Items of particular interest mentioned are a gum coat, blacking brush, and napkin ring.