THIS DAY IN VIRGINIA HISTORY
Click image for larger view.
September 22, 1914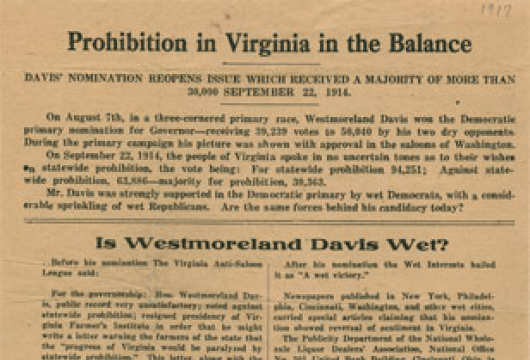 Westmoreland Davis' Nomination Reopened the Prohibition Issue
Westmoreland Davis (1859–1942) ran for governor in 1917 during the prohibition controversy and served as Virginia governor from 1918 to 1922. During the Democratic party primary, Davis's opponents endorsed the prohibition of alcohol. He endorsed local option, hoping to win all of the wet voters and not alienate the dry voters. Prohibition had been mandated by Virginia law making the state dry on November 1, 1916. Later the 18th Amendment to the United States Constitution prohibited the manufacture, sale, and transport of alcoholic beverages. The 21st Amendment repealed nationwide prohibition in 1933 and returned to the states the power to monitor alcohol within their borders.