Library Blogs
With over 3,000 Virginia titles and literally millions of pages from all over the Commonwealth, Fit To Print was created by the Virginia Newspaper Project to provide an informal gateway to the varied newspaper collections at the LVA. The collections range from 18th century newspapers published on fine rag paper to very elegant broadsides from the 19th century to the information packed dailies of the 20th century.
With more than 500,000 items, the Prints and Photographs Collection at the Library of Virginia provides an astonishing visual account of the commonwealth-from its beginnings to the present-through single items, such as one-of-a-kind daguerreotypes, to sprawling collections with many thousands of photos and related documentation, and everything in between.
What do archivists do? What does it take to care for and make available the commonwealth's documentary heritage? Join the Library's archivists for a weekly discussion about their work and their journeys through the records, as they find interesting and unique items to share on their new blog Out of the Box...
This Day In Virginia History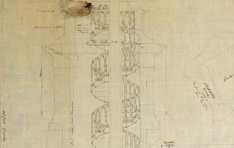 The Washington Equestrian Statue was built to the northwest of the Capitol building in Richmond as a part of the renovations to Capitol Square in the 1850s. This sketch shows a spiral staircase inside the forty-foot pedestal of the statute. The cornerstone was laid on Washington's birthday in 1850 and the statue was unveiled exactly eight years later. The monument was completed in 1868, with st… cont'd »
Current Exhibition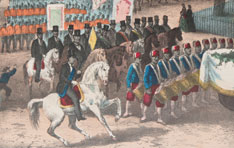 Lost and Found, a new exhibition opening at the Library of Virginia onFebruary 27, examines the constantly changing fabric of our world.Things disappear, sometimes almost without notice-signs, buildings, eventowns-and others go into attics, basements, and landfills. Some aresaved and carefully stored and preserved; others intentionallydestroyed, sometimes dramatically.