Library Blogs
With over 3,000 Virginia titles and literally millions of pages from all over the Commonwealth, Fit To Print was created by the Virginia Newspaper Project to provide an informal gateway to the varied newspaper collections at the LVA. The collections range from 18th century newspapers published on fine rag paper to very elegant broadsides from the 19th century to the information packed dailies of the 20th century.
With more than 500,000 items, the Prints and Photographs Collection at the Library of Virginia provides an astonishing visual account of the commonwealth-from its beginnings to the present-through single items, such as one-of-a-kind daguerreotypes, to sprawling collections with many thousands of photos and related documentation, and everything in between.
What do archivists do? What does it take to care for and make available the commonwealth's documentary heritage? Join the Library's archivists for a weekly discussion about their work and their journeys through the records, as they find interesting and unique items to share on their new blog Out of the Box...
This Day In Virginia History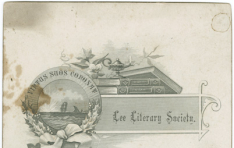 The Lee Literary Society at Virginia Agricultural and Mechanical College was formed when the Virginia Literary Society (begun in 1872) split into the Sophsonian and Philomathian Societies in 1873. Later that year the Sophsonian Society became the Lee Literary Society, and the Philomathian renamed itself the Maury Literary Society. The Lee and Maury Societies established the first student public… cont'd »
Current Exhibitions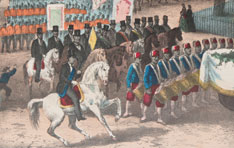 Flora of Virginia highlights the botanical exploration of from colonial days through 2012's publication of Flora of Virginia, the first statewide flora published since the 1762 Flora Virginica by Johannes Gronovius. The 2012 book identifies nearly 3,200 plant species native to or naturalized in the commonwealth. Since the colonial period, Virginia's flora has been collected, described, and drawn. As a botanist uses language to describe plant, a botanical artist uses pen, ink, pencil, or watercolor to help the reader visualize a plant.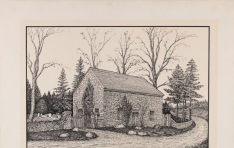 The WPA Historic Houses Drawings Collection includes 140 drawings in pen-and-ink, pencil, and watercolor of houses, courthouses, churches, mill houses, and taverns, representing 39 Virginia counties. From 1932 to 1937, the Virginia State Commission on Conservation and Development's Division of History and Archaeology received funds from the Works Progress Administration's (WPA) Federal Art Project to commission five artists...